News Highlights
Katie Couric Upsets Liberal Media By Questioning Cervical Cancer Vaccine Given to Young Girls
Europeans stand up to terrible storms
Deadly storm and tidal surge batter northern Europe
China, US and Britain: Tact needed as global power shifts
Business/Markets
Spain's Communist Village Is Making The Rest Of The World Look Bad
The Job Market Is Not Improving
Forbes ranking: The world's richest Jews
How to commit fraud and get away with it: A Guide for CEOs at macroresilience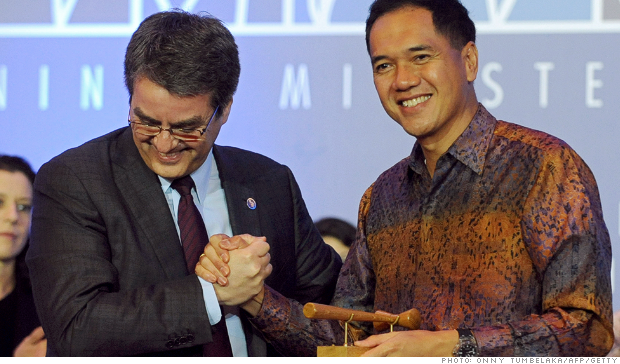 Boost for trade as global deal struck. The first major global trade deal in nearly 20 years was struck Saturday as 160 countries agreed on measures that could boost the world economy by as much as $1 trillion
Entertainment
Gavin Arvizo's New Beginning: Jackson Abuse
Accuser Gets Married at 24
After nixing concert, Willie Nelson says: 'SeaWorld is not OK'
Susan Boyle tells British paper she has Asperger's
Click to enlarge
Brad Pitt to fly Down Under for family Christmas
Sports
Vancouver Canucks downed Colorado Avalanche 3-1 Sunday night in NHL action at Rogers Arena.
Mike D'Antoni has coached the Lakers to success without Kobe Bryant
Health
Obesity is Inflammatory Disease, Rat Study Shows
Benefits of turmeric for high blood pressure
Killing cancer like the common cold
Commentaries

CNN Viewer Has Questions
Little Prince George – the most popular search item on Yahoo
2013 was half gone when little Prince George was born to the Duke and Duchess of Cambridge. Nevertheless, he still made #1. He was Yahoo's most popular search item  He was more popular than the Wimbledon champion, Andy Murray, the prices for homes, Nelson Mandela, iPhone or Kindle. He also beat his mother, the Duchess [...]
Tech

Larry Zeltzer
Microsoft account security beefed up. Summary: A log of recent account activity, an account recovery code and better control of notifications to be added in coming days. Microsoft accounts are used in Windows 8, Outlook.com and Skydrive.
ScriptRock GuardRail, First Take: Cloud–based server monitoring and diagnostics. Summary: As DevOps gets more agile, infrastructure needs unit tests too. Enterprise startup ScriptRock offers cloud– hosted testing configuration tools to get you started
Microsoft, Apple, Google, Facebook call for NSA muzzle. Summary: The Reform Government Surveillance group, an alliance between eight major technology firms, aims to persuade the U.S. government to stop undermining the privacy rights of the general public
iPad Air vs. Kindle Fire HDX: Which is the best tablet?

Now Apple Stores will track your every move with iBeacon tech
Microsoft likens government snooping to cyber attacks. Senior legal counsel says internal systems will adopt 'Perfect Forward Secrecy' to encrypt links between servers
NSA tracks hundreds of millions of cell phones worldwide
2 million Facebook, Gmail and Twitter passwords stolen in massive hack