Mitt Romney Ohio Ground Game: A Frantic Race To Catch Obama
Posted: 09/27/2012 10:23 pm EDT Updated: 09/28/2012 9:10 am EDT
COLUMBUS, Ohio -- In a nondescript office inside a nondescript row of buildings along an entirely nondescript street on the outskirts of town, Rick Datchuk has spent three to four hours of every night of every workday for the past four months.

Datchuk, 62, makes phone calls for Mitt Romney. And not just when he finishes his shift at his construction job. Every Saturday, he makes the five-minute trek to Suite 110F at 1335 Dublin Road, sits down at one of the white folding tables, grabs a phone, and starts dialing. He plans to use his annual two weeks of vacation to -- you guessed it -– work full time for the former Massachusetts governor.

Amid his usual routine this week, Datchuk took several minutes to explain why he feels so impassioned about a nominee that few others seem passionate about. But before any words left his mouth, he got teary-eyed.

"I'm a former Marine," Datchuk said, after composing himself. "I just love my country. And I can clearly see we are not going in the right direction and I'm just doing my small part to try and save America. That's why I'm here every day."

If Romney is to pull off an upset in Ohio, it will be because of people like Datchuk. On Wednesday night, Datchuk was one of roughly 20 people methodically calling voters and gauging support for the Romney-Ryan ticket.

It is part of a frantic effort by the Romney campaign to catch President Barack Obama on the ground in Ohio, perhaps the most critical of states and a place where retail politicking still works. While Romney has 36 campaign offices in Ohio, Obama has 96. Romney and the state GOP have an estimated 130 staffers. Obama has what his state communications director said were "hundreds of staff and thousands of volunteers." Romney started his general election campaigning in May and opened his first Ohio office in early June (he closed the Dublin Street headquarters after he won the primary). Obama for America has been in the state, basically, for five years.

"Well look, the advantage to being the incumbent president is you don't have the primary typically and you get to start early," said Scott Jennings, Romney's Ohio campaign manager. "And there's nothing I can do about that ... What we can do is control what we can control which is we have started in May. We started to hit the streets immediately.

"We pride ourselves on efficiently using volunteer time," Jennings added. "We're not just firing off a shotgun in the air and hoping it lands. We're making very targeted, high-quality voter contacts. It's building out our get-out-the-vote universe. We're building this big capacity in every county. We've got to have the ability when live ballots start hitting the field next week to really turn out this universe for Romney-Ryan."

Over the course of a day, The Huffington Post sought to determine the on-the-ground capacity the Republican campaign has built in Ohio by visiting each office in the Columbus area. In addition to the five Romney-Ryan offices, we checked out five Obama campaign offices for comparison.

At the Romney office in Westerville -- an old Thai restaurant with bright yellow and neon green painting -- a few volunteers filtered in and out, grabbing campaign literature. The same held true for the campaign's office in Heath, tucked between a Royal Thai cuisine and a Honeybaked Ham in a busy strip mall, and at the Reynoldsburg office, where two kids, roughly a decade below legal voting age, grabbed a yard sign. At the Grove City office, the site of the 3 millionth call made on behalf of Romney in Ohio, an elderly woman made phone calls as a staffer worked in the back. Snack food left over from the lunch shift, when more volunteers were working, remained on a table.
By and large, the Romney offices were sleepy. But so were Obama's.

The president's office in Westerville had four people at work before two others pulled in to join them. In Pickerington, there were two people inside, but no volunteers. The Obama office on North High Street had the benefit of being in a well-traversed neighborhood, below a bar and across the alley from a theater. But it still failed to attract much attention, with just three people inside. At another office in Columbus, five people were working, though only one was making calls. There, like everywhere else, staffers said they were forbidden from talking to reporters.

"We're not used to people wearing sports coats," one male staffer explained.

There were some notable differences between the two candidates' field offices. The Obama centers catered to their surrounding communities. One office in a predominantly minority neighborhood prominently featured "African-Americans for Obama" signs in the window.

Romney's headquarters were blunt, no-nuance political billboards, except they weren't just advertising Romney. In the windows were signs for other Republican candidates, from the prominent (Josh Mandel, the Senate candidate), to the obscure (Bryan Long, the Licking County recorder). A staffer explained that because the state party paid for the offices, it could push the entire Republican slate. This meant talking up Mandel's campaign on phone calls. It also meant presenting Romney as the leader of a party with a struggling brand instead of as a singular entity.

By night, both campaign offices had grown more active. At 6:30 p.m. at the Obama headquarters on East Dublin-Granville Road, 15 volunteers made calls, many working their second shift of the week.

Kathy Tovar, 70, a Columbus native who lived around the corner, said she had been volunteering for the campaign since February. Tovar, a neighborhood team leader with 20 volunteers reporting to her, had an Obama campaign paid- cell phone so she could make calls outside the office. On many days, she works alongside her son, Jeff, who handles some of the technical and physical demands of campaigning (his hands were covered in dirt from planting lawn signs).

"I think they care about this president," Tovar said of the group that surrounded her. "I can't think of any other reason why to do it."

By the next day, Tovar thought of another reason, emailing, "I can't speak for anyone but myself, but I am also here because the Republican Party has gotten so extreme and so far to the right that it is terrifying. I read their platform and it spells it out in all its right-wing glory. I would never forgive myself if I didn't do everything possible to defeat people with these kinds of plans."

Fear animates the Romney staffers working at the Dublin Street office as well. Back in 2008, John McCain's presidential campaign famously skimped on its on-the-ground infrastructure. Sean Quinn, then a correspondent for FiveThirtyEight.com, visited 50 McCain field offices around the country and came away startled. Hours had been reduced, staffers were not showing up, and in some cases, offices had been closed. Looking back, Datchuk shuddered at the complacency.

"I remember many times going in there and I was the only one making phone calls," Datchuk said. "Reporters would come in and ask to speak to volunteers and it was only me. We're more organized than 2008. It seems more focused now."

BELOW IS A SLIDESHOW OF SOME OF THE CAMPAIGN OFFICES:
Field Offices In Columbus
1 of 14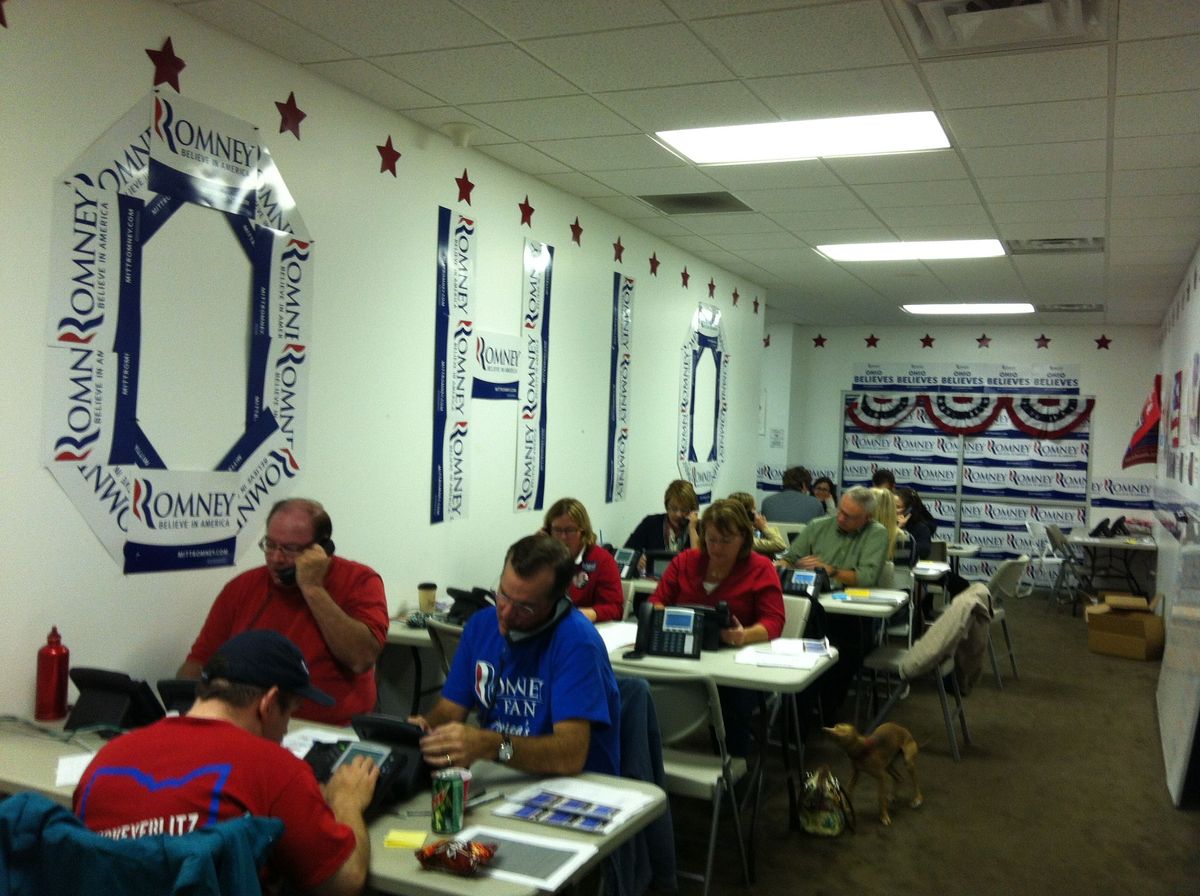 ×Sort by Ranking
Sam Stein
4

1

2

3

5