NEWS HIGHLIGHTS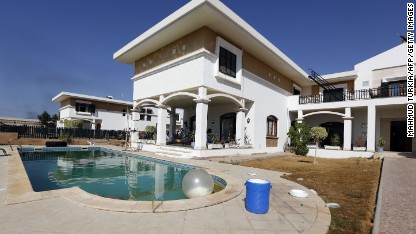 Video shows militia members in pool
Libyan militia members have apparently turned the abandoned U.S. Embassy in Tripoli, Libya, into a water park, judging by amateur video posted to YouTube. The video shows fully clothed men diving into and swimming in a pool. FULL STORY
AFRICA

Biblical scenes: Billions of locusts descend onto Madagascar capital (PHOTOS)


China calls Zimbabwe's Mugabe an 'old friend'

SPORTS

U.S. Open: Eugenie Bouchard survives Zahlavova Strycova. Reaches 4th round for 1st time in her career

SC/ENVIRONMENT

Puget Sound's orca population falling, census finds'

FUKUSHIMA

TECH

China to Replace Google, Microsoft With Homegrown OS

Writers | History | Books

Lessons From The Last Time Civilization Collapsed

Notes from the Drains. What Cops Really Do

ODDLY ENOUGH

Dutch spend 461,000 euros to fence off king's Greek holiday home

In Case You Missed It

Princeton Study: U.S. No Longer An Actual Democracy


AP Photo / Patrick Semansky

HEALTH

Four steps to extend your life

Study: Junk food may trap people in a cycle of unhealthy eating by making them less likely to try a variety of new foods and more likely to respond to visual cues for junk food in the future

To Protect Your Heart, Your Sodium to Potassium Ratio Is More Important Than Your Overall Salt Intake

Good News: Gluten-Free, Low-Carb Paleo Diet Hits the Mainstream

Best-Selling Toothpaste Contains Hazardous Endocrine-Disrupting Chemical

CELEBRITY/ROYALTY

Joan Rivers on life support as daughter Melissa remains 'in denial' about mother's condition: sources. No decisions will be made about the comedienne's future for the next few days, according to a report.

Man Gets Worst Possible News on Pawn Stars

Joan Rivers' daughter Melissa distraught as comedian remains in medically induced coma: source. Melissa Rivers could face a life-or-death decision as she awaits an update on her mother's condition after she went into cardiac and respiratory arrest during a routine doctor's visit Thursday.

ECONOMY/MARKETS/BUSINESS

5 reasons to flee the U.S. for Canada. Burger King followed Tim Horton's across the border. Should you?

Divisions Grow as a Downturn Rocks Europe

EU to slap new sanctions on Russia as Ukraine's president calls conflict threat to Europe

OP-ED

An essential movement in the face of wage inequality
U.S.

No water, no peace! States of emergency and water shut-offs in Detroit
Central US Faces Labor Day Weekend Severe Weather
AMERICAS
Drought leaves up to 2.81 mln hungry in Central America


The drought, which is also affecting South America, has been particularly hard on the so-called "dry corridor" of Central America
Meet the 127-year-old Mexican woman who claims to be 'oldest ever human'
CANADA
Education Minister confirms no school on Tuesday

Speaking to reporters this afternoon, Education Minister Peter Fassbender calls demands by BC teachers "unacceptable and unrealistic". Fassbender also confirms classes will not resume on Tuesday. BCTF President Jim Iker is set to address the media at 4:00 p.m.

Vince Ready
B.C. teachers' strike: Vince Ready walks out of talks. CBC News | Posted:Aug 30, 2014 5:52 PM PT | Last Updated:Aug 30, 2014 5:52 PM PT | Veteran mediator Vince Ready said Friday night that the parties in the teachers' dispute were far from a resolution. On Saturday he walked, saying there was no need for him as the two sides were too far apart.

TaiwanFest will feature an exhibit of rich traditional Chinese puppetry with a modernized, Taiwanese twist by performance group Pili. Hong Yi Shuo of the Pili puppets.
TaiwanFest focuses on indie music and social activism. Organizer sees parallels with Canada.
Operating room black box could provide valuable feedback for surgeons
Veteran mediator Vince Ready will try again Saturday to find a deal that both sides in the teacher dispute can agree upon. He will be meeting with the union at 1 p.m. to discuss their package.

Lilia Ratmanski and Milana Muzikante have been charged with smoking on board an aircraft and endangering its safety. Photo: Lilia.ratmanski/Facebook
Drunk, smoking passengers force plane to turn back under military escort
M.E./ASIA
U.S. Airstrikes Help Break Militants' Siege of Northern Iraqi Town
China rebukes 'foreign meddling' in Hong Kong. China has warned against any foreign interference ahead of a crucial ruling on Hong Kong's political future, saying Beijing will not tolerate the use of the city "as a bridgehead to subvert and infiltrate the mainland".
Gaza Truce Leaves No Clear Winner After 50-Day Conflict
Fresh Wave of Violence Kills Scores in Iraq
Israel, Palestine agree to long-term ceasefire in Gaza Strip
Support Margot B World News with your tax–deductible donation